2014 Pope John Annual Alumni Golf Outing
DATE: Mon, Jun 16th
7:30am Registration & Breakfast
Lake Mohawk Golf Club
471 W. Shore Trail, Sparta, New Jersey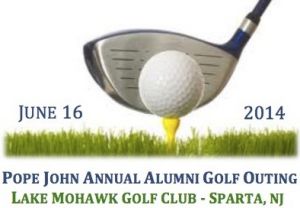 This Event has passed.
We are pleased to announce that Stephen Tilton, Class of 1963, and his wife, Judith Schumacher Tilton, will once again underwrite the Alumni Golf Outing. The Tilton's gift is truly heaven-sent, as all proceeds are designated to the Pope John XXIII Endowment Fund., established exclusively for long-term charitable and educational purposes as they relate to Pope John XXIII High School. 
The Pope John Endowment Fund conducts fundraisers; cultivates and accepts investments for the high school's future from parents, alumni, and supporters of the school. The Endowment Fund, managed by the Board of Directors, is an important tool in enduring the long term stability of the high school and participates in formulating the strategic vision to achieve excellence during the school year and into the future.
We ask that you join us on Monday, June 16th at Lake Mohawk Golf Club. If you cannot attend, please consider making a donation to support this event. Additionally, we invite you to send a "Shout Out" to your friends from PJ High School. All donations and 'Shout Out' messages will appear in the Outing Journal. Golf Shout Out | Donate
LAKE MOHAWK GOLF CLUB a private member-owned golf club located in Sparta, NJ. The lush bent fairways lead to greens that Touring Pros have characterized as equal to those experienced on the PGA Tour. Practice facilities include a driving range, chipping and sand practice areas as well as two putting greens.
EVENT SCHEDULE
7:30 A.M. - REGISTRATION & BREAKFAST
9:00 A.M. - SHOTGUN START (scramble format)
LUNCH PROVIDED
3:00 P.M. - COCKTAIL HOUR (OPEN BAR)
4:00 P.M. - DINNER, AUCTION & AWARDS
HOW TO GET INVOLVED 
Register to Golf • Become a Sponsor • Advertise in the Outing Journal • Join us for Dinner • Volunteer 
ALUMNI GOLF CUP - Awarded to the PJ Class most represented (comes with bragging rights for a year!)
DOWNLOADS:
Golf Outing Registration Form